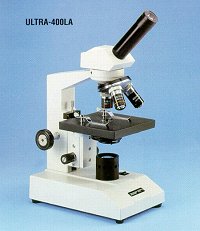 Zenith Microscopes
Monocular/Binocular Biological Microscopes (Student Type)
Ultra-400LA'
Zenith Ultra-400LA Advanced Student Microscope

Ideal for ordinary and advanced level biology studies. The Zenith Ultra-400 series are purpose built teaching instruments finished to a very high standard, combining excellent optical performance and a very reliable, modern, user-friendly design with a mechanical construction designed to withstand the rigours or everyday heavy classroom use. All models feature high quality DIN standard optics, anti-tamper safety features included locked on eyepiece and stage clips, slip clutch on the coarse focus movement to prevent over focussing and an adjustable focus stop to prevent damage to glass microslides and objective lenses. Highly recommended.

Standard Specification:

Magnification Range x40, x100, x400,1000* (*x1000 magnification achievable by upgrading with optional x100R oil immersion objective

DIN Achromatic Objectives x4 (0.10), x10 (0.25), x40R (0.65) (R=retractable)

x10 widefield eyepiece with pointer (18mm field)

ABBE Condenser (N.A. 1.25) in spiral focussing mount with iris diaphragm

Triple Nosepiece Turret

Built in 230v 20w illumination (colour corrected with daylight blue filter)


*x1000 magnification achievable by upgrading with optional x100R (1.25) oil immersion objective




Accessories
WF-5
x5 DIN eyepiece
WF-16
x16 DIN widefield eyepiece
ME-10
x10 DIN widefield measuring eyepiece
OM-100
x100R (1.25) Oil DIN objective*(*Accessory for Ultra-400LA only)
CT-11
Mechanical Stage
VA-2
Teaching Head
VA-2TV
CCTV Adaptor (Mag. X2)
BS-3
Plano-concave mirror in mount
SB-20
Replacement 240v 20w bulb

Product Code: Ultra-400LA

build_table('etistore',array('heultra400la')); ?>

Optical microscopes
Main article: Optical microscope
Optical microscopes, through their use of visible wavelengths of light, are the simplest and hence most widely used type of biology and geology.

Optical microscopes use refractive lenses, typically of glass and occasionally of plastic, to focus light into the eye or another light detector. Typical magnification of a light microscope is up to 1500x with a theoretical resolution of around 0.2 micrometres or 200 nanometers. Specialised techniques (e.g., scanning confocal microscopy) may exceed this magnification but the resolution is an insurmountable diffraction limit.

Various wavelengths of light are sometimes used for special purposes, for example, in the study of biological tissue.[2] Ultraviolet light is used to illuminate the object being viewed in order to excite a fluorescent dye which then emits visible light. Infrared light is used to study thick slices of biological tissue because infrared light's low diffraction coefficient permits viewing deeper into tissue.

Other microscopes which use electromagnetic wavelengths not visible to the human eye are often called optical microscopes. The most common of these, due to its high resolution yet no requirement for a vacuum like electron microscopes, is the x-ray microscope.