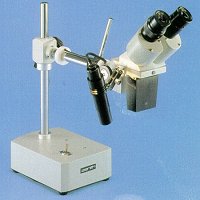 Zenith Microscopes
Stereoscopic Microscopes
STL-80
Zenith STL-80 x10/x20 Long Arm Stereoscopic Microscope

A very useful and versatile instrument for use throughout education and industry. Features 12v 10w halogen illumination and two magnifications of x10 and x20 as standard. The long boom arm is adjustable to vary the viewing angle of the stereoscopic head. The heavy microscope base ensures stability. The long working distance of 231mm and a field of view of 20mm make it ideal for operations such as dissection and fine assembly work.

Standard Specification:

Magnification x10, x20

Paired x10 & x20 widefield eyepieces

Achromatic Objective Pair x1

Working distance 231mm

Field of view 20mm

230v/12v 10w halogen illumination

Binocular head inclined 45 degrees for comfortable viewing

Full interpupillary and dioptric adjustment provided

Boom arm can be raised on its pillar to accommodate specimens of varying sizes

Rack and Pinion focussing

Supplied in polystyrene pack

Dimensions 390x130x390mm

Weight Approx 6kg




The first useful microscope was developed in the Netherlands in the early 1600s.[1] Three different eyeglass makers have been given credit for the invention: Hans Lippershey (who also developed the first real telescope); Hans Janssen; and his son, Zacharias. The coining of the name "microscope" has been credited to Giovanni Faber, who gave that name to Galileo Galilei's compound microscope in 1625. (Galileo had called it the "occhiolino" or "little eye".)

The most common type of microscope—and the first to be invented—is the optical microscope. This is an optical instrument containing one or more lenses that produce an enlarged image of an object placed in the focal plane of the lens(es). There are, however, many other microscope designs.


Accessories
SB-12
Replacement 12v 10w bulb
EP-15
x15 widefield eyepiece (2 req'd)
OG-1
x0.5 objective pair

Product Code: STL-80

build_table('etistore',array('hestl80')); ?>