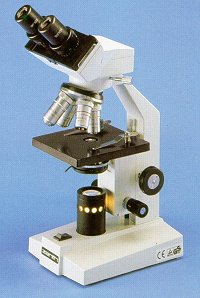 Zenith Microscopes
Monocular/Binocular Biological Microscopes (Student Type)
BM-100FL
Zenith BM-100FL Binocular College Microscope

A high quality binocular microscope designed to meet the needs of the more advanced biology student at an economical price. Combines excellent optical performance and a robust, reliable ergonomic design. Anti-tamper safety features include locked on stage clips, slip clutch on the coarse focussing movement and an adjustable focus stop.

Standard Specification:

Magnification Range x40, x100, x400,1000

DIN Achromatic Objectives x4 (0.10), x10 (0.25), x40R (0.65),100R (1.25) oil immersion (R=retractable)

Paired x10 widefield eyepiece with pointer (18mm field)

ABBE Condenser (N.A. 1.25) in spiral focussing mount with iris diaphragm

Quadruple Objective Turret with positive click stops

Built in 230v 20w illumination (colour corrected with daylight blue filter)

Separate smooth action Coarse & Fine Focussing controls

Dioptric adjustment provided on both eyepiece tubes

Binocular head inclined 45degrees and rotatable through 360degrees for conveneint viewing

Full Inter-pupillary adjustment

Permanently horizontal stage

Supplied in Polystyrene Pack with Dust Cover

Dimensions 175x130x350mm

Weight 4kg
The first useful microscope was developed in the Netherlands in the early 1600s.[1] Three different eyeglass makers have been given credit for the invention: Hans Lippershey (who also developed the first real telescope); Hans Janssen; and his son, Zacharias. The coining of the name "microscope" has been credited to Giovanni Faber, who gave that name to Galileo Galilei's compound microscope in 1625. (Galileo had called it the "occhiolino" or "little eye".)

The most common type of microscope—and the first to be invented—is the optical microscope. This is an optical instrument containing one or more lenses that produce an enlarged image of an object placed in the focal plane of the lens(es). There are, however, many other microscope designs.





Accessories
WF-5
x5 DIN eyepiece
WF-16
x16 DIN widefield eyepiece
ME-10
x10 DIN widefield measuring eyepiece
CT-11
Mechanical Stage
SB-20
Replacement 240v 20w bulb

Product Code: BM-100FL
build_table('etistore',array('hebm100fl')); ?>