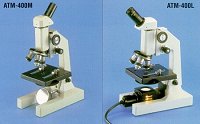 Zenith Microscopes
Monocular/Binocular Biological Microscopes (Student Type)
ATM-400 Educational Microscope Series
Zenith ATM-400 Series Educational Microscope

Purpose built teaching instruments of modern design & robust construction ideal for GCSE biology studies. Excellent optical performance is provided by DIN standard optics. Two identical models are available with a choice of either a plano-concave mirror or 230v 15w illumination. Anti-tamper safety features essential for school use include locked-on eyepiece and stage clips, slip-clutch on the coarse focus movement to prevent over-focussing and an internal focus-stop to prevent damage to glass microslides and objective lenses.

ATM-400M Illumination via Plano Concave Mirror
ATM-400L With locked on 230v 6w substage illuminator

Standard Specification for both models:

Magnification x40, x100, x400, x640 magnification achievable by using optional x16 flatfield eyepiece

DIN standard Parfocal Achromatic Objectives x4 (0.10), x10 (0.25), x40R (0.65) (R=retractable)

x10 widefield eyepiece with pointer

Stage Condenser (N.A. 0.65)

Rotating 5-hole disc diaphragm

Separate coarse & fine focussing controls

Rack & Pinion focussing

Monocular head rotable 360degrees & inclined 45degrees for convenient viewing with stage horizontal

Microscope limb can be inclined if required

Triple Objective Turret

Brass focussing slides

Dimensions 220x120x305mm

Supplied in polystyrene pack with dust cover

Weight 2.9kg

The first useful microscope was developed in the Netherlands in the early 1600s.[1] Three different eyeglass makers have been given credit for the invention: Hans Lippershey (who also developed the first real telescope); Hans Janssen; and his son, Zacharias. The coining of the name "microscope" has been credited to Giovanni Faber, who gave that name to Galileo Galilei's compound microscope in 1625. (Galileo had called it the "occhiolino" or "little eye".)

The most common type of microscope—and the first to be invented—is the optical microscope. This is an optical instrument containing one or more lenses that produce an enlarged image of an object placed in the focal plane of the lens(es). There are, however, many other microscope designs.




Accessories
AM-16
x16 Flatfield Eyepiece
MSL-6
230v 15w Substage Illuminator for ATM-400M only
SB-4
Replacement 230v 15w Bulb

build_table('etistore',array('heatm400m','heatm400l')); ?>